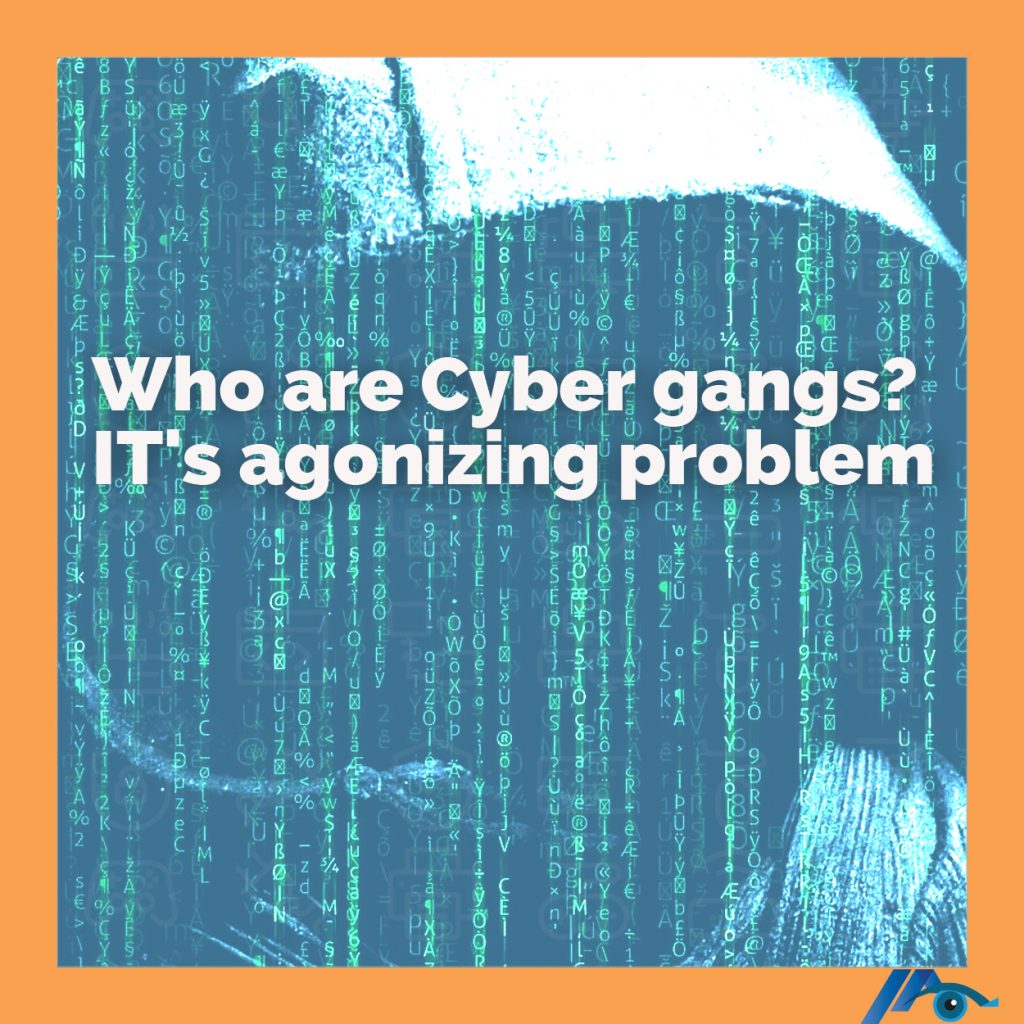 It's been a while since Cyber gangs and their crimes came into existence. With the passing of time they've been shifting tactics. They've adopted new technology, they're going after new targets and are on the constant lookout for new opportunities. Like every criminal, their aim is to maximize their loot.
There are several notorious gangs that are getting smarter and more sophisticated. These gangs base their operations  in countries where it is impossible for the targets to legally take any action. This encourages them to perform long-term attacks without the fear of getting caught. Ransomware and extortion is becoming child's play, but you can help put an end to it.
Cyber gangs go beyond just phising e-mails
For the longest time cyber gang criminals have absolutely loved phising e-mails. Its become a cliché. The easiest way to spot a fraudulent email was by bad grammar. Research has concluded that cyber gangs have started employing professional native-language writer to make their e-mails seem more legit. And its working because the only way to quickly notice a fraudulent email was by bad grammar.
There're also tools that exist on the dark web for sale that assist in carrying out cybercrimes. Millions and millions have been stolen by tricking employees into revealing their credentials and then phish other employees with access to financial data. Money is stolen in several ways, not just once that will alarm the organization right away. For example, legitimate wire transfers are intercepted once the cyber criminal has gained access by phising and money is instead sent to the attacker instead of a client.
Stay ahead of cyber gangs
So many of breach detecting methods are now obsolete. We need constant revision, training policies and tools that organizations need to adapt quickly to stay ahead. Employees need to be constantly educated on what things to share on social media, that can be used in a sophisticated social engineering attack. Do not accept even the most authentic looking invitations straight away, verify it first. Employees with access to financial data and dealings need to know about whaling attacks.
Executives and managers need to know why they are most likely to be a target. If a company can afford it, use Artificial intelligence that can detect abnormal behavior on your system/network. You should stay informed of employees, bribes can get even to the best of them.
Some basic tips include not keeping simple username and passwords for cloud-based office suites, set up 2FA or other additional authentication to prevent cyber gangs from gaining access to your system. Cyber gangs are very organized and dealing with them is very challenging, but its not impossible and can be defended against. More can be read here.
Miracle offers an extensive range of ITServices across cloud data centers management portfolio covering Data Center Operations & Transformation, Cloud ITServices and Hybrid cloud infrastructures. We offer these next gen security solutions to each of our all different industry clients. Our approach will make your organization more responsive and more agile in keeping up with the competition. Security threats are ever-evolving. So, are the counter security strategies.
Security threats are ever-evolving. So, are our counter security strategies.
Our NY based fortified managed IT services security shield includes:

Enterprise firewalls (Checkpoint, Cisco, PaloAlto, Sonicwall, Fortinet, Watchguard…)

IPS (Intrusion Prevention), IDS (Intrusion Detection)

Anti-Virus, Anti-Spyware, Anti-Malware, Anti-Ransomware

MFA (Multifactor Authentication) solutions 

Our proven IT Support Business Model meets every budget and computer support requirement
Simply the best Managed IT Support Services Based in NYC. Consistent, reliable, professional managed IT support services